Delphin OMEGA / 2 parts
Price including VAT
from 39.96 €
A massive all-aluminium landing net Delphin OMEGA is the right co-fighter for fishing. Thanks to its really quick folding and unfolding it is ideal for boat fishing, but of course it is also reliable when fishing from the shore. Its base is a two-part, profiled telescopic handle with a centre fastening matrix. Thanks to a thick-wall profile with the handle´s outer diameter of 32mm is built to handle big overloading without being damaged.
The setting and securin of its length is the mater of a short while. The handle is attached to monolithic frame by a solid attachment with a safety lock. The net itself is resistant and rubber which guarantees minimal absorbability and it is stinky from caught fish. Thanks to its sufficient depth it can handle and fit in a really big carp.
Technical parameters:
Length of the handle: 90 - 170 cm
Head dimensions: 70 x 80 cm
Related Products
Blog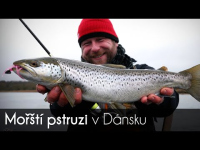 David Havlíček: Sea trout fishing in Denmark. English subtitle!